North Fort Myers Cowboys Youth Football & Cheer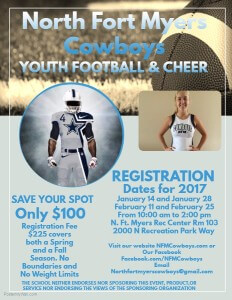 SAVE YOUR SPOT
Only $100
Registration Fee
$225 covers both a Spring and a Fall Season. Boundaries and No Weight limits.
REGISTRATION
Dates for 2017
January 14 and January 28
February 11 and February 25
From 10:00 am to 2:00 pm
N. Ft. Myers Rec Center Room 103
2000 N. Recreation Park Way
Visit our web site NFMCowboys.com or Facebook.com/NMFCowboys
Email: Northfortmyerscowboys@gmail.com
The school neither endorses nor sponsoring this event, product or service nor endorsing the views of the sponsorship organization.